Intelligent Tutoring Systems
Complex adaptive learning systems modeled on one-on-one human tutoring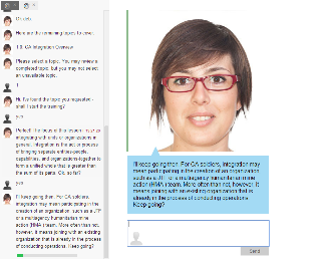 Intelligent Tutoring Systems (ITS) attempt to replicate the one-on-one human tutoring experience and come in many forms.
As a class, ITS are highly effective learning technologies, consistently demonstrating learning effect sizes on the order of one sigma and reductions in time to mastery.
The ITS of interest to Eduworks interact with learners through graphical user interfaces that support avatars and speech recognition. They determine the state of the learner through assessment and, in some cases, through biometric affect detection, and use this information to adapt their teaching strategy.
Eduworks research into intelligent tutoring systems includes the following projects and results:
Automating ADDIE This project reduces the time it takes to convert didactic materials into interactive learning. One form of output can be used to create tutors in the Generalized Intelligent Framework for Tutoring (GIFT).

Dialogue-based Tutoring Framework Eduworks has developed its own dialogue-based tutoring framework based on our Java version of the ChatScript dialogue engine and on the Eduworks Engine. In an ongoing collaboration with the University of Oregon, this has been used to create ITS for students with traumatic brain injuries, and is available for commercial applications.

TRADEM-SEM Eduworks TRADEM-SEM project is applying structural equation modeling in the context of GIFT to determine the validity and efficacy of auto-generated and non-autogenerated domain and expert models.

GIFT Eduworks anticipates further supporting GIFT with research into tools for authoring GIFT tutors.
References and Publications
Woolf, B. P. (2010). Building intelligent interactive tutors: Student-centered strategies for revolutionizing e-learning. Morgan Kaufmann.
Hu, X., Cai, Z., Han, L., Craig, S. D., Wang, T., & Graesser, A. C. (2009). AutoTutor lite. In Proceedings of the 2009 conference on Artificial Intelligence in Education: Building Learning Systems that Care: From Knowledge Representation to Affective Modelling (pp. 802-802). IOS Press.
Durlach, P. J., & Ray, J. M. (2011). Designing adaptive instructional environments: Insights from empirical evidence. Army Research Institute for the Behavioral Sciences, Orlando. FL
VanLehn, K. (2011). The relative effectiveness of human tutoring, intelligent tutoring systems, and other tutoring systems. Educational Psychologist, 46(4), 197-221.
Sottilare, R., Brawner, K., Goldberg, B. & Holden, H. (2012) The Generalized Intelligent Framework for Tutoring (GIFT).
Robson, R., Ray, F. & Cai, Z. Transforming Content into Dialogue-based Intelligent Tutors, Interservice/Industry Training, Simulation, and Education Conference (I/ITSEC) 2013
Ray, F., Brawner, K., Robson, R. (2014) Using Data Mining to Automate ADDIE. (Poster/short paper) Proceedings of the 7th International Conf. on Educational Data Mining, July, 2014, London, UK.
Ray, F., Brawner, K., Robson, R., (2014). Automating ADDIE. Proceedings of the Intelligent Tutoring Systems 2014 Conference, Honolulu, Hawaii, June 2014.
Robson, R. & Barr A. (2013) Lowering the Barrier to Adoption of Intelligent Tutoring Systems through Standardization. In Design Recommendations for Adaptive Intelligent Tutoring Systems Learner Modeling (Vol. I), Sottilare, R., Holden, H., Graesser, A. & Hu, X. eds. Army Research Lab.
Robson E. & Robson R. (2014). Automated Content Alignment for Adaptive Personalized Learning, Interservice/Industry Training, Simulation, and Education Conference (I/ITSEC) 2014, National Training Systems Association.